A super economical portable nebuliser with a comfortable grip and excellent performance
Only 85g, lighter than a smart phone, powered by AA batteries
Whisper quiet < 40dB, even quieter than whisper
Adjustable strength of atomisation (High-Medium-Low)
Includes Child and Adult Nebuliser Masks
Ultrafine particles for better therapeutic effects
Nebulises more than 80% of particles smaller than 5µm during the nebulisation treatment, and the MMAD is only 2.2 µm. This means more medicine can DIRECTLY access at the affected area.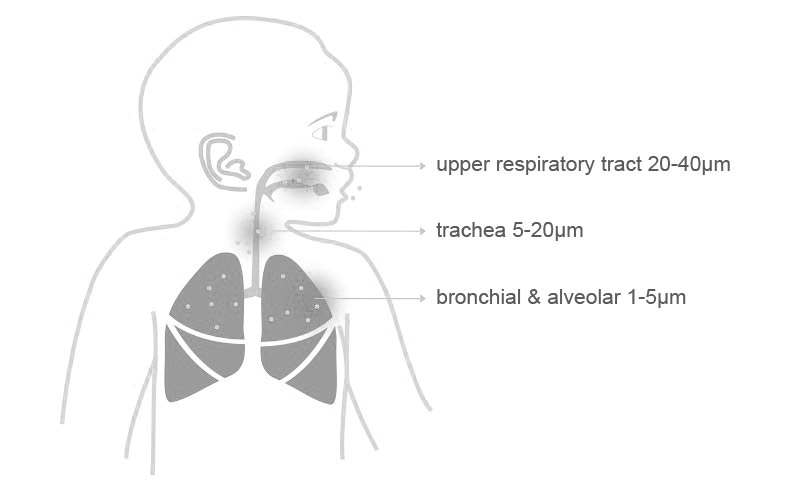 Original I.A.D Technology
IAD technology is progressed by a smart respiratory sensor for "Respiratory Monitoring", which allows the nebulis­er to atomise medicine while inhaling, and suspend atomising while exhaling, reducing the feeling of needing to cough.
Specifications
Power Supply: 2 x AA batteries
Continuous Working Hours: > 1 hour
Frequency of Atomization Center: 113KHz±5%
Atomization Rate: 0.3 – 0.4 ml / min. (adjustable)
Working Noise: < 40 dB
MMAD: 2.2 μm
Effective Atomized Particles: 80% of particles < 5 μm
Protection Class: IP24
Minimum Atomizing Volume: 0.5 ml
Capacity of Medication Container: 8 ml
Maximum Scale Volume: 8 ml±10%
Dimensions: 4.2 x 7.2 x 10.8cm
Weight: 76±5g (excl. batteries) 123±5g (incl. batteries
Nebulisation rate: ≥0.2mL/min
Medicine liquid temperature: ≤60°C
Model: NEB-008